Career Readiness Workshops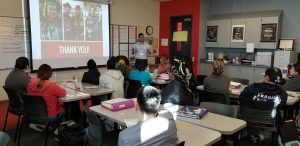 Tips for Success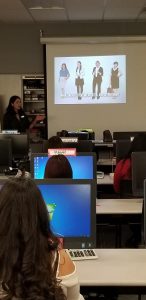 Enrolling in classes to obtain the skills and certificates towards a career, is only the first step. Instructors and staff work towards providing students with all the tools so they are better prepared when they go for their INTERVIEW! We all understand how nerve-racking and stressful an interview can be, but we all know that it is inevitable if we want a job. Instructors work with students on how to write a cover letter, a resume, and create a portfolio. In addition, we also invite guest speakers to meet with our students to provide "Tips for Success".
This year our students met with Patty from FIDM. Patty emphasized on how to dress for the interview and identified do's and don'ts. She also spoke on the importance of eye contact, communication (verbal/nonverbal cues), and being confident. With her assistance, students gained an insight of how another person can interpret our body language and the importance of sending the right message.
Our Admissions Technician, Elizabeth also presented to some classes on the Keys to Success. Her presentation focused on steps to prepare a person leading towards an interview. She pointed out the importance of being prepared, making a positive first impression, "trigger words", and provided examples of interview questions. With her support, students learned how identify "trigger words" and become more familiar with interview questions.
Riverside City College and Moreno Valley College also participated in our workshops. Both Kristopher and Anthony provided students who plan on continuing their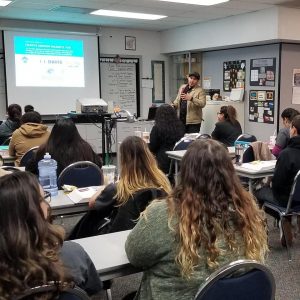 education, information about the process and pathways that can lead towards an Associates Degree. Their information allowed students to explore the opportunity in continuing to grow and develop in their careers, but also helped our students connect with someone that can assist them in planning out their education to further themselves in their career.

Through workshops and dedicated professionals, we hope that students apply all the tips and tools for their next step….the interview.

« Student HighlightsHoliday Cheer »