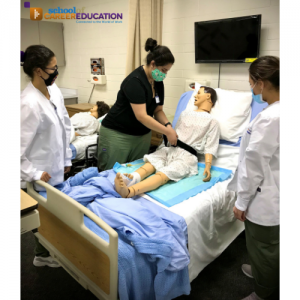 Riverside Campus
Patient Care Technician (formerly NSSO)
Our Nursing Services and Support Occupations students recently completed their state testing to become a Certified Nursing Assistant. Student completed the testing onsite, using equipment and labs that they have been training on throughout their program. They are on their way to being ideal job candidates with their multiple credentials: CNA, Home Health Aide and Acute Care for Nursing.
Indio Campus
Business Administration (Formerly AOP)
School of Career Education courses are on a summer break but student success is not! Our Business Administration students have been hired with Enchanted Memories, Southwest Boulder & Stone, Desert Imaging and the County of Riverside. These students have learned skills in Microsoft Office, Accounting, Payroll, website design, and Office Communication just to name a few. We are excited to get our incoming fall students registered and learning skills to prepare them for the world of work.
«
July 2021- Social Media
July 2021- Upcoming Events
»