Spring Resource & Career Fair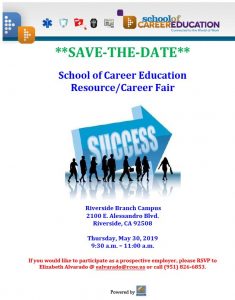 Interested in making an IMPACT?!
Providing students with the tolls for success is what we strive for.  In addition to having instructors from the industry, we connect students to the world of work by hosting events that provide them with the opportunity to network.  We currently still have seats available to welcome any additional vendors to our Resource and Career Fair on May 30th.  This event is FREE and open to the public.  If you are interested in participating as a vendor at no cost, please contact us to learn how.
Those that would like to join us and network with employers are advised to bring a resume and dress to impress.  We are excited to host this event and to see our community come together to support each other in helping others reach their goals.
The event will be May 30, 2019, 9:30a.m.-11:00a.m. at 2100 E. Alessandro Blvd., Riverside, CA 92508.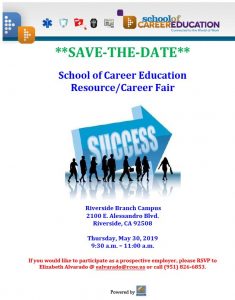 « Spring Open HouseStudent Highlights »