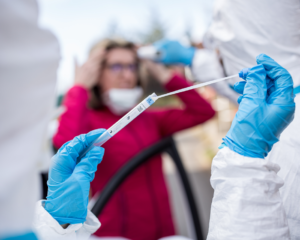 Riverside Campus
Emergency Medical Technician
Two of our Emergency Medical Technician graduates are working on the frontlines as COVID 19 testers. School of Career Education prepares our graduates to be successful employees in the field and teaches the skills needed to be versatile, adaptive and ready to assist on the frontlines. Congratulations to these former students!
Medical Assistant Bootcamp
Congratulations to a recent Medical Assistant Bootcamp graduate! She was hired in her second week of externship at RPP Family and Elder Care. Her dedication and commitment to her education showed not only in the classroom, but also at her externship site. Congratulations on your new career!
Indio Campus
Nursing Services & Support Occupations
Our Nursing Services & Support Occupations (NSSO) course is already seeing student success. One of our current students is being hired with the Indio Rehabilitation Center and we are excited that she is able to get such wonderful experience even before completing her program. School of Career Education has been a trusted partner in the community offering our Nursing students their CNA license, Acute Care certification and Home Health Aide certification.
Horatio Alger Scholarship
We are excited that students from both campuses in our NSSO and Pharmacy Technician courses have been awarded the Horatio Alger Scholarship for Career Technical Education. This is of great help to our students who are in need of tuition assistance. We encourage our students to take the time and apply for scholarship opportunities throughout the school year; they do get awarded!
«
October 2020 – Student of the Month
November 2020 – Student of the Month
»